1.  Verify that your revolver is UNLOADED.  Now do it again.
2. Use the enclosed screwdriver bit to remove the forward-most sideplate screw, holding the crane in place.
3. Slide the crane forward, with cylinder attached.  Note that the flutes are what allows the cylinder to be removed.  It is also possible to remove the crane while leaving the cylinder in place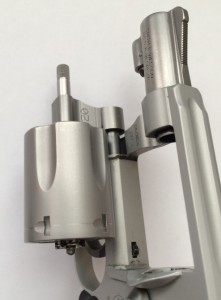 4. Unscrew the ejector rod from the extractor star.  Note that this has a LEFT HAND THREAD and therefore unscrews the opposite from what you would expect.
5. Remove the ejector rod and extractor from the cylinder.  Be careful about dropping the springs
6. Install the ejector/extractor group on the Wall-Saver safety cylinder.  The fit through the hole may be tight, and the plastic is necessarily thin at that point.  Use caution to avoid breaking it.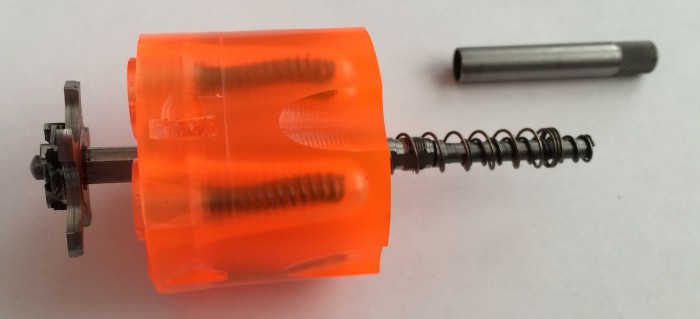 7.  Tighten the ejector rod, recalling that it turns the opposite direction from ordinary screws.  Inadequate tightening may result in your gun jamming closed.
8. Install the Wall-Saver safety cylinder onto the crane, and the crane onto the frame of your revolver.
9. Tighten the screw securing the crane onto the frame.
10. You are now ready to teach and train!
Look good to you?  Order a Wall-Saver safety cylinder today!